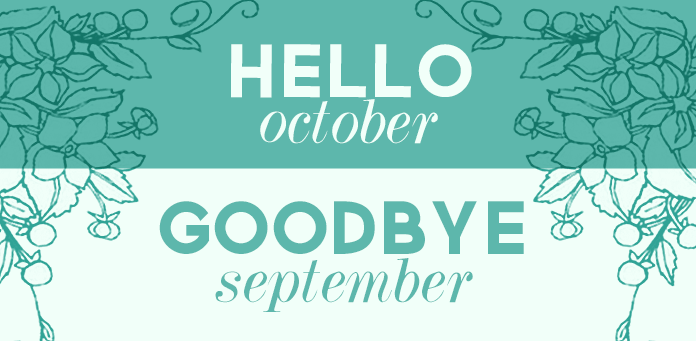 Since September has been a pretty great month and I'm really looking forward to October too, I've decided to give the latter a great welcome and bid the former a proper farewell. A recap is quite appropriate, yes?
October Excitements
Book releases this month that I absolutely must have


On the blog
Since I'm unofficially putting my Swoon Worthy Saturday meme on hold and since Behind The Blog is on hiatus too, I have lots of space to fill within the weeks to come. This means more opportunities for new stuff on the blog! I'll still be continuing my List Of Awesome feature though- I've already got some ideas lined up! And, you'll be seeing more book reviews! I hope October turns out to be a great month for this blog!
 September Recollections
Events and happenings
Manila International Book Fair 2013
One of the things I look forward to every year is the Manila International Book Fair, which I think is the biggest book event we have here! It's not BEA or any of those super cool festivals in the US but it's pretty awesome in itself. Although I can say the bargain selection at MIBF last year was far more impressive, I still had lots of fun! I was able to save up for the fair so I got to buy lots of books! (See my MIBF pile here.)
Melissa De La Cruz, Alyson Noel and Margaret Stohl Book Signing Event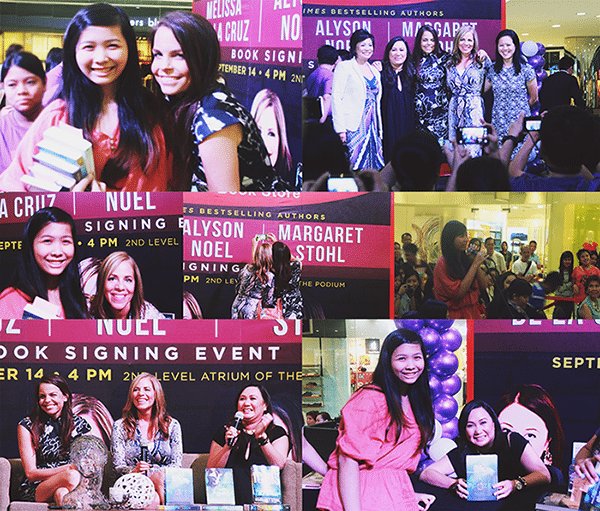 I never got to post about the signing but ahhh, it was one of the best events of last month! 3 AUTHORS, you guys! And they were all so funny, especially Margaret!. Alyson was cool too, with her infectious laugh and huge grin. I haven't read both Margaret and Alyson but I have read practically ALL of Melissa's books so it was her I really fangirled about! She even agreed to customize her dedication and she wrote "Kingsley loves ya!" on one of my books and "Jack loves ya!" on the other so I was super happy! I was also one of the attendees that got an opportunity to ask a question and I was just really flailing inside! Overall, the signing was a great experience.
18th Birthday
I think y'all already know that I celebrated my 18th birthday last Sept 23! Contrary to popular thought, my celebration was intimate and simple really. Nonetheless, it was one of the best birthdays, and I definitely felt special! I just want to thank you guys for all the sweet messages! (Even now, people still keep greeting me haha it's actually funny) My blog party / giveaway is still going on so I hope you guys join! Thank you for all the love and support! xo
Books read


Book reviews
The Edge of Never by JA Redmerski
Chaos by Christine O'Neil
Not Pretty Enough by Jaimie Admans*
All Of You by Christina Lee*
Wild Cards by Simone Elkeles
American Girl On Saturn by Nikki Godwin*
* – Blog tour
Awesome Lists
Unforgettable Fictional Songs
Things To Do To Make MIBF A Fulfilling Experience
Quirky Contemporary Kids
Blog Lovin'
Putting the spotlight on my fave bloggers and blog crushes
Books And Other Happy Ever Afters
Book Addicts Guide
Adrift On Vulcan
Paper Grey
Pop Goes The Reader
What She Reads
So Obsessed With
GReads!
Ongoing Giveaways
18th Birthday Giveaway
Not Pretty Enough Blog Tour Giveaway
American Girl On Saturn Blog Tour Giveaway
On Replay
I'm super in love with these songs! I totally raped the replay button on my iPod  because I'm too addicted. If you guys are looking for cool music recs, check out these features: Listen Up by Rachel Reads & Infinite Playlist by Hello, Chelly!
  
  
Lovely words
"Happily ever after, or even just together ever after, is not cheesy. It's the noblest, like, the most courageous thing two people can shoot for." – Wren Avery, Fangirl