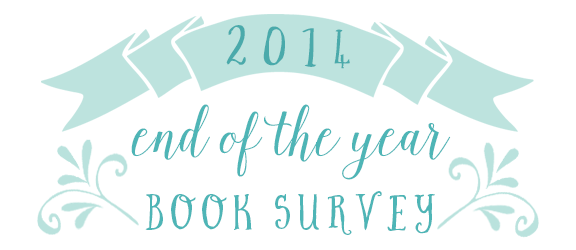 Like most people, I like to contemplate the past year as it ends. With that, I'll be answering Jamie Of The Perpetual Page Turner's end of year book survey to reminisce on the amazing books I read through 2014. I'll be sharing lots of fab reads that you might have missed before and will want to check out so do read on!

Number Of Books You Read:
141 books read! I set my reading goal to 150 originally, then cut it down to 143, and still failed. That said, I've outdone my number of books read the past years so I didn't totally fail, I guess.
Number of Re-Reads:
I never officially took count because I don't re-read that much but if I were to estimate I'd say about 5!
Genre You Read The Most From:
YA Contemporary, without a doubt. It's forever my favourite genre.

Best Book You Read In 2014?
YA Contemporary – Damsel Distressed
YA Fantasy – Blood Of Olympus, Ruin And Rising
YA Paranormal – The Retribution Of Mara Dyer
YA Dystopian – Ignite Me, Into The Still Blue
New Adult – Maybe Someday
Book You Were Excited About & Thought You Were Going To Love More But Didn't?
Royally Lost by Angie Stanton. It's a YA book with Europe travels and royalty- I was so ready to fall in love with this. But as explained in my review, the book was royally lost on me.
Most surprising (in a good way or bad way) book you read in 2014?
Breathe, Annie, Breathe by Miranda Kenneally. I've read all of her books and although I loved most of them, Breathe, Annie, Breathe really moved me so unexpectedly.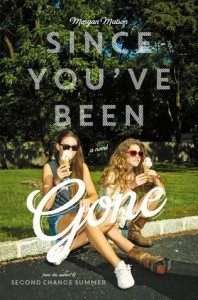 Book You "Pushed" The Most People To Read (And They Did) In 2014?
Since You've Been Gone. Everyone needs a Frank Porter in their life. I will probably book push this one for a long while.
Favorite new author you discovered in 2014?
Melissa Keil. I'm so glad I got to read her books (Life In Outerspace and The Incredible Adventures Of Cinnamon Girl) because I just absolutely adored them!
Best book from a genre you don't typically read/was out of your comfort zone?
I don't think I read any books quite outside of my comfort zone in 2014. I'll try to do that next year.
Most action-packed/thrilling/unputdownable book of the year?
Blood Of Olympus. Rick Riordan continues to amaze with this seriously brilliant, page-turner series-ender.
Book You Read In 2014 That You Are Most Likely To Re-Read Next Year?
To All They Boys I've Loved Before. I need to re-read it because the sequel comes out next year!
Favorite cover of a book you read in 2014?
Since You've Been Gone (again)- I seriously love the typography and photography there!
Most memorable character of 2014?
Bodee Lennox from Faking Normal. He remains etched in my mind- the kind boy with the Kool-Aid hair.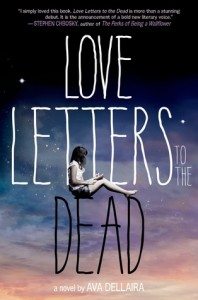 Most beautifully written book read in 2014?
Falling Into Place by Amy Zhang. Such a stunning, gorgeous debut.
Most Thought-Provoking/ Life-Changing Book of 2014?
Love Letters To The Dead by Ava Dellaira made me think about life, about the world we live in.
Book you can't believe you waited UNTIL 2014 to finally read?
Siege & Storm. I should have read it way back so I could have met Sturmhond as early as possible!
Favorite Passage/Quote From A Book You Read In 2014?
"Maybe when we can tell the stories, however bad they are, we don't belong to them anymore. They become ours. And maybe what growing up really means is knowing that you don't have to just be a character, going whichever the story says. It's knowing that you could be the author instead." – Love Letters To The Dead
Book That Shocked You The Most
Dangerous Girls. WOAH THAT ENDING.
OTP OF THE YEAR (you will go down with this ship!)
WHAT IS THIS QUESTION EVEN. I LOVE ALL MY OTPS AND WILL GO DOWN WITH ALL OF THEM: Nikolina, Percabeth, Solangelo, Warnette, Joshla- okay I'll stop there because the list is super long.
Favorite Non-Romantic Relationship Of The Year
Dee & Reagan from Open Road Summer. Best pair of best friends I've read in 2014!
Favorite Book You Read in 2014 From An Author You've Read Previously
Isla And The Happily Ever After!!! It made me so happy.
Newest fictional crush from a book you read in 2014?
Matt Finch from Open Road Summer. HOT SWEET KIND SINGER GUY- OH MY HEART.
Best 2014 debut you read?
Damsel Distressed by Kelsey Macke. It's a beautiful, relatable book. Y'ALL NEED TO READ IT.
Most Vivid Setting You Read This Year?
Wish You Were Italian took me to Italy which is on my bucket list of places to visit and I super enjoyed it!
Book That Put A Smile On Your Face/Was The Most FUN To Read?
Summer On The Short Bus, Behind The Scenes, Not In The Script! <3

Book That Made You Cry Or Nearly Cry in 2014?
Damsel Distressed, yet again. It just really hit me emotionally in so many places. Kelsey's book spoke to my heart.
Hidden Gem Of The Year?
I never got around to writing a review (I should do that) but Aspen by Rebekah Crane was lovely and honest, under the radar as it is.
Book That Crushed Your Soul?
Ruin and Rising. HOLY BOOK HANG OVER.
Most Unique Book You Read In 2014?
Plus One had such an interesting concept!

New favorite book blog you discovered in 2014?
Taylor only started her blog this year and I love how her posts have so much quality and are so well-written. And her blog design is pretty neat and refreshing! If you haven't checked out her Paper Daydreams, you really ought to.
Favorite review that you wrote in 2014?
My review for Since You've Been Gone by Morgan Matson was super fun to write because I loved that book very much!
Best discussion/non-review post you had on your blog?
I'd like to think The Art of Finding Great Book Bargains was a very informed and helpful post.
Best event that you participated in (author signings, festivals, virtual events, memes, etc.)?
Gayle Forman in Manila. I looove Gayle's books to death so it was such an amazing experience to get to meet her! She's such a fun and sweet person and I had such a blast during the event. Also, that was the first time I joined the bloggers forum and I've bonded with so many lovely PH bloggers since then. So not only was it incredible but it's also memorable.
Best moment of bookish/blogging life in 2014?
When I did my first ever completely exclusive cover reveal for Top Ten Clues You're Clueless. I can't thank Liz enough for the opportunity and for her trust.
Most Popular Post This Year On Your Blog (whether it be by comments or views)?
7 Gayle Forman Quotes To Live By had an outstanding number of views- more than 7,500 views and almost 100 comments!
Post You Wished Got A Little More Love?
Spending On Books: Budgets, Expenditures & Habits. I was really excited about sharing this post and while it did draw some attention, I think it needs more lovin'. ;)
Did you complete any reading challenges or goals that you had set for yourself at the beginning of this year?
I totally rocked the YA Debut Challenge and read more than 15 2014 Debut books by the first third of the year!


One Book You Didn't Get To In 2014 But Will Be Your Number 1 Priority in 2015?
I'll Give You The Sun– it was one of my most anticipated 2014 releases and I don't know why I didn't read it yet. I can't wait to read it in 2015!
Book You Are Most Anticipating For 2015 (non-debut)?
For YA Contemporary, I'm looking forward to Things We Know By Heart, Start Of Me And You, 99 Days and for YA Fantasy, I can't wait to read Magnus Chase and Six of Crows.
2015 Debut You Are Most Anticipating?
All The Bright Places (I've heard so many things!!), A Court Of Thorn And Roses (Sarah's NA Debut SQUEEEE), Simon Vs. The Homo Sapiens Agenda, Mosquitoland.

A Sequel You Are Most Anticipating in 2015?
PS: I Still Love You– I seriously need to know what happens next for Lara Jean!
One Thing You Hope To Accomplish Or Do In Your Reading/Blogging Life In 2015?
Start vlogging? Or at least maybe make book haul videos. It'll be a leap but I want to dare myself to try it. :)
A 2015 Release You've Already Read & Recommend To Everyone:
My Heart And Other Black Holes, you guys. It's beautiful and earnest. Your bookshelf needs it.