Hello, June
Save-the-date releases
YA Books
Book-to-movie Adaptation
Excuse me- *SCREAAAAAAMS*!!!!  I can't believe it's finally here. Counting down to the minute because I'm so so so excited for the TFIOS movie! I loveeeeeed the book and the trailer made me tear-up! ANSEL ELGORT/AUGUSTUS WATERS I'M READY FOR YOUUU
Movie details from SureSeats.com:
THE FAULT IN OUR STARS
Genre: Drama/Comedy
Rating: PG
Cast: Shailene Woodley, Ansel Elgort, Willem Dafoe, Nat Wolff
Running Time: 128 min.
Hazel and Gus are two extraordinary teenagers who share an acerbic wit, a disdain for the conventional, and a love that sweeps them – and us – on an unforgettable journey. Their relationship is all the more miraculous, given that they met and fell in love at a cancer support group. THE FAULT IN OUR STARS, based upon the number-one bestselling novel by John Green, explores the funny, thrilling and tragic business of being alive and in love.
Tentative Date: June 5, 2014
For PH bookworms and nerdfighters, buy/reserve movie seats here!
Upcoming events
Jenny Han in the Philippines (#JennyHaninPH)
I adore Jenny Han and really cannot wait to meet her! I first read her Summer I Turned Pretty trilogy the summer before my senior year in high school and I just grew attached to it after finishing! I've not yet read Jenny's Burn for Burn series (co-authored with Siobhan Vivian), and I still need copies of the first two books. I have read Jenny's latext, To All The Boys I've Loved Before and really enjoyed it! (My review should go up this month, so watch out for that one.)
Back to the signin, National Book Store will be bringing Jenny Han for a book signing tour in Manila and Cebu on June 21-22! Here are some of the details from NBS:
#NBSevents Join New York Times bestselling writer Jenny Han, author of "The Summer I Turned Pretty" trilogy, for book signing events on June 21 at 2 pm in National Book Store, Glorietta 1 and on June 22 at 2 pm in National Book Store, SM Cebu.
For more details, visit the Jenny Han Book Signing Tour event page & FAQ page!
#30daysofbookstagrams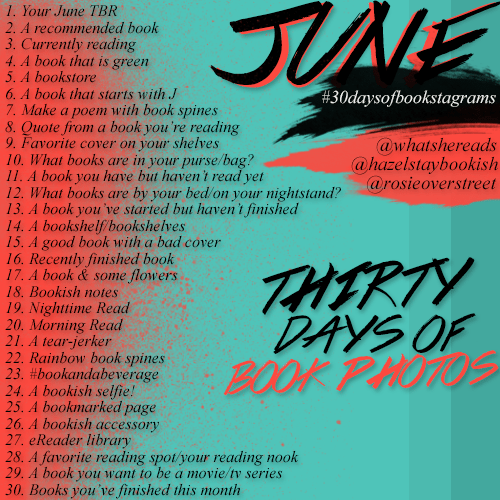 With our combined love for books and pretty photos, Georgie of What She Reads, Rosie of Rosie Reads and I, came up with a bookish photo challenge for June! We're doing it on Instagram, with the hashtag #30daysofbookstagrams! I'm super excited to be doing it and even more excited that people are joining in. If you're up for a challenge yourself, definitely do this along with us! <3
Want to check out #30daysofbookstagrams? Search the hashtag or follow our instagrams:
Georgie's Instagram // Rosie's Instagram // Hazel's Instagram
On the blog
I'M CELEBRATING MY BLOGOVERSARY THIS MONTH PEOPLE!!!!! *excited shimmy* Yes, my blog is a June baby! I'm still not sure what I'm doing then but I already have several ideas. Just watch out for my celebration on the 12th. ;) Aside from my blogoversary, there won't be anything major on the blog this month. I just hope to post more reviews, discussions and also Novel Portraits this June since I wasn't able to do them last month.
Goodbye, May
Things that happened
I launched my first blog event, Ah-MAY-zing Reads 2014!
Hosted a twitter party for the the first time too and it was so much fun!
I started a design shop, and it has kept me very busy but also very fulfilled.
Summer school. (Thank god it's over now!)
I read very little, compared to previous summers. *insert sad face*
Going to BEA became my new life goal.
I went to the beach for a summer getaway. <3
Books read Total books read for May 2014: 13 books
Reading Challenge progress update: 64/150
Blog Posts
Ah-MAY-zing Reads Posts
Story Soundtracks: Of Breakable Things // Life By Committee // A Girl Called Fearless // Now And Forever // Take Me On // Breakfast Served Anytime
Slambook Interviews: Kristin Rae // Kristi Helvig // Huntley Fitzpatrick // Michelle Krys // Jennifer Echols // Jillian Cantor // Anne Blankman
Lists & Other Special Posts: Only Everything Characters + Dream Cast // Pieces Of Lainey // Romantic Cliches That Need a Permanent Vacation // 10 Reasons Not To Date Your BFF's Co-Star // Summer On The Shortbus Deleted Scene // Writing Say What You Will
Miscellaneous
Reviews: Plus One // Pulled Under // All Lined Up // Since You've Been Gone // Infinite Sky
Book Hauls: #19 (The One With The ARCs) // #20 (Hello, Summer Reads)
Cover Reveal: Press Play by Eric Devine
List of Awesome: 22 Things To Do To Make The Blogging Community A Happier Place
On replay
I can't stop listening to Lana Del Rey's West Coast!!! EAR-FUCKING-GASM. <3 I've also been addicted to Parachute's You and Me. It's kinda a throwback listen since I already loved it way back, but Morgan Matson's Since You've Been Gone, through Frank's playlist, has got me even more in love with the song!
Lovely words
"Because sometimes in life, you just have to stand there and do nothing. Overwhelmed by all the versions of ourselves that exist in our minds—who we want to be, who we should be, who we're not, and who we are—it's a jungle that can ensnare your feet and confuse your eyes. But sometimes if you stand still, all those things will snap back into place like a rubber band. And if you can get past the sting, you can keep moving, not quite whole, but held together for the moment." – All Lined Up, Cora Carmack
How was May for you? What are you looking forward to this June?